The Fotoman 617 Panoramic Camera is a simple design for a product that produces exceptional quality images. The camera produces a large 5.6 cm x 16.8 cm image allowing for 4 shots on a 120 roll. If you like large film images this is a must have camera. With the use of exceptional quality large format lenses the Fotoman 617 can produce very sharp images with incredible tonal range and depth of field. Focusing is done with the use of the Fotoman Helical Focusing Mount or the optional ground glass.

Milled from a solid billet of 6061 T aluminum alloy this sturdy light-weight camera body comes in at 1.56kg (3.44 lbs.). The Fotoman 617 is a solid, light weight camera that is simple to operate. It produces exceptional imagery limited only by your imagination.
| | |
| --- | --- |
| Image Size: | 56mm x 168mm |
| Film Size: | 120/220 |
| Focusing: | Helical Focus Mount or optional GG-617 Ground Glass |
| Viewfinder: | 120 degree with Interchangeable Masks |
| Body Material: | 6061 T Aluminum Alloy |
| Body Dimensions: | 203mm x 111mm x 62mm |
| Weight: | 1.56 kg (3.44 lbs.) Not Including Lens |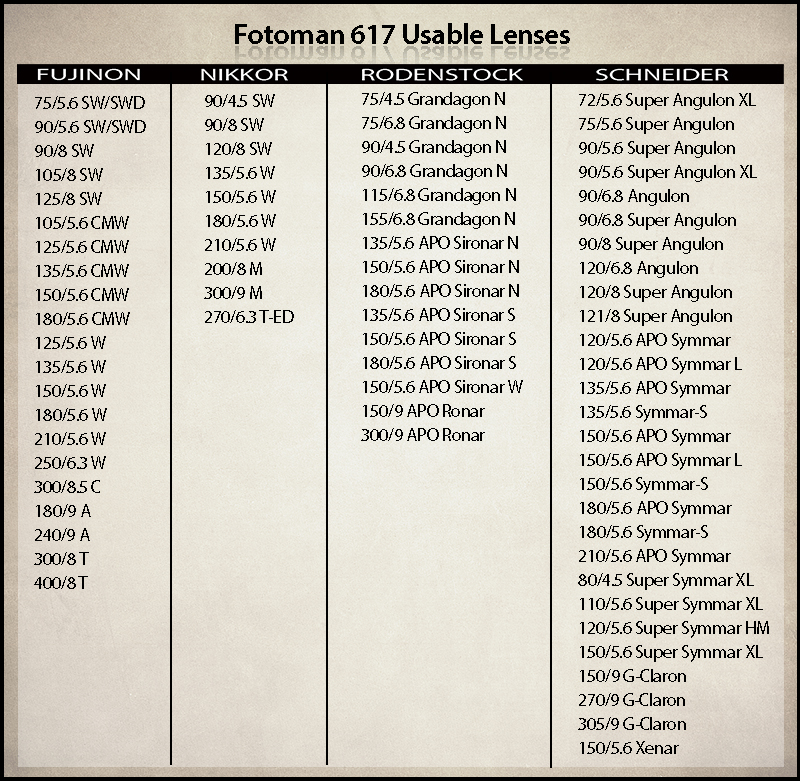 NOTE:
This list is a comprehensive list however there may be additional lenses that can be adapted to this camera. Lenses with flange focal distances that are between 79mm and 208mm can be adapted to this camera.
Unique lenses, that we do not have technical data relating to the flange focal distance, it is the responsibility of the customer to provide the correct or most accurate information. Calibration issues as they relate to the flange focal distance and this technical data will not result in refunds or discounts.
If a unique lens is supplied to Fotoman Professional to adapt to a cone assembly it is the responsibility of the customer to pay shipping of the lens to Fotoman Professional offices.